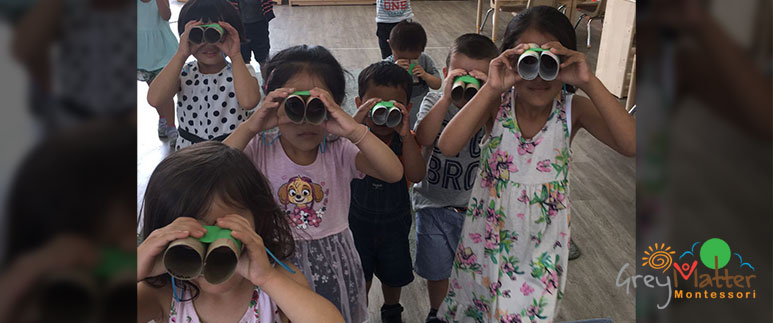 2020 Spanish Explorar Mexico & Brightminds Math & Chess Summer Camps Calgary

Grey Matter Montessori is excited to announce that this year's summer camps will be all about Brain Building and enjoying the outdoors!
Camps are for students ages 3-7 and activities will be geared to specific age groups and abilities
We are pleased to offer the following 2 unique camps. Both camps will be for 3 hours each and run for all 4 weeks. A full-day option is also available where students can attend both camps!

Explorar Mexico! Spanish Summer Camp in Calgary
---
Our 4-week Spanish summer camp is sure to keep your child happy, engaged and open up a whole new world of learning. Students will learn beginner Spanish in a FULL SPANISH IMMERSION program through activities, crafts and games. Students will paint, cook and explore the outdoors! They will also be submerged in the rich culture and the history of Spanish speaking countries. Teachers will primarily be speaking in Spanish to ensure your child gets the most out of this 4-week camp! Ignite your child's passion and learning for languages at this exciting camp!
Date:
Timings:
Cost:
Early Bird
Explorar Mexico runs week long from Monday, July 6th to Friday, July 31st, 2020
8:30 am to 11:30 pm (3 hours)
$750
DISCOUNT of $100. So book before March 31, 2020, for a special rate of $650!

Grey Matter/Brightminds Math and Alterman Chess Calgary Summer Camps
---
Explore the world of Math and the magic kingdom of Chess! Bringing Bright Minds Math and Alterman Chess summer camp to our classroom, your child will develop a love of learning Math and Chess! With challenging brain building Math and Chess activities both indoor and outdoor. Students will spend 1.5 hours in Math activities both hands-on and in workbooks. Chess activities will take place for the other half of the class where students will learn the names of Chess pieces and how they move around the board. Students will have the opportunity to use our giant chessboard as well as play games in pairs with our table size boards. Students will work according to their own ability and skill level and will be placed in appropriate groups.
To participate in this summer camp students must be at least 4 years of age OR require an assessment at our Calgary Grey Matter Montessori.
Date: Math & Chess runs week long from Monday, July 6th to Friday, July 31st, 2020
Timings: 8:30 am to 11:30 pm (3 hours)
Cost: $750
Early Bird DISCOUNT of $100. So book before March 31, 2020, for a special rate of $650!

Get the Best of Both Summer Camps For Your Kids!
---
Now offering a full-day option!
Date: Explorar Mexico & Math/Chess runs for one week on July 6th to July 31, 2020 Timings: 8:30 am to 3:30 pm (7 hours) Cost: $1300 SAVE $100 before March 31st 2020 - $1200
Note: Summer camp fees must be paid in full at the time of registration, and are non-refundable unless the week is cancelled.

Benefits:
---
Children have fun and learn socialization skills
Encourages gross motor development in children
Promotes outdoor activities
Highly educational, in a safe and comfortable learning environment
Learn more about the Benefits of Summer Preschool Camps
Contact Us
---
Grey Matter Montessori is an educational preschool center designed to provide a Montessori and IPC (International Preschool Curriculum) elite program for children aged 3-6. Learn more about our Montessori preschool in Calgary.
Enriching young minds is what we are extremely passionate about. Ensure your child stays busy, and gains important skills and learns while having fun, even during a school break! Spots fill up quickly, so please call us at 587-707-4739 or send us an email to register today!